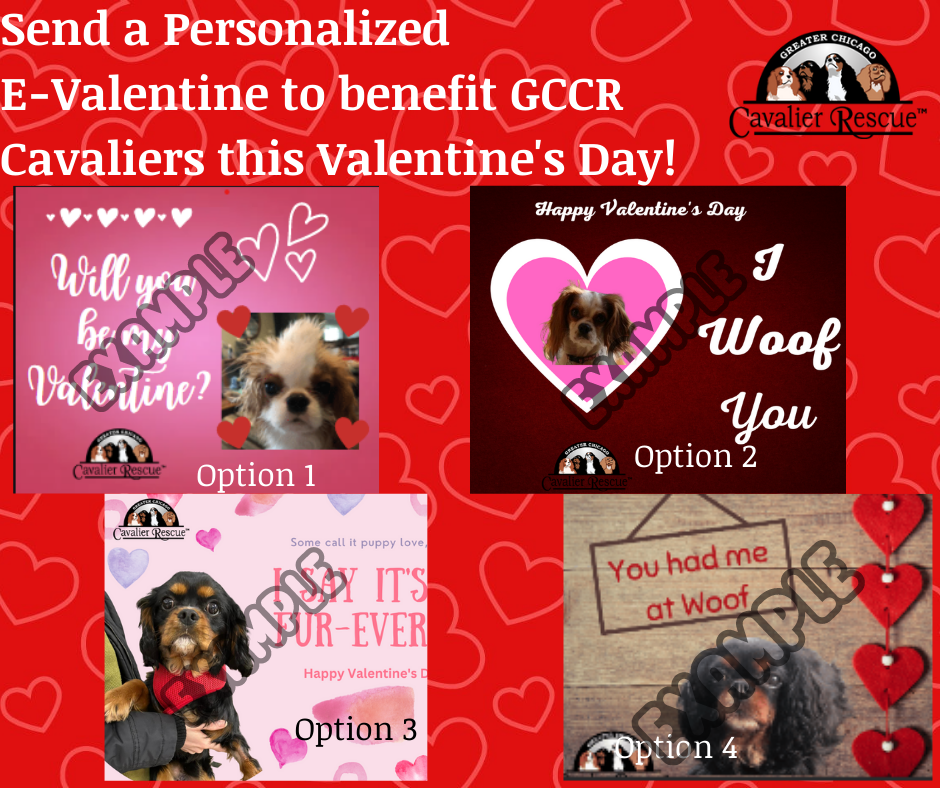 "PERSONALIZED E-VALENTINE"
Send a personalized E-Valentine to benefit our cavaliers this Valentine's Day! Cost is $5 per Valentine.
Here's how:
STEP ONE:
Order by Zelle: Send a (minimum) $5 donation donation to treasurer@gccavalierrescue.org Make sure "your name is in the notes and specify that your donation is for a Valentine".
OR
Order via our website: gccavalierrescue.org/giving and scroll down to General Donation. Click the link and fill out all of the information, including your (minimum) $5 donation. At the bottom, in the "donation for a special needs Cavalier" box, type Valentine.
STEP TWO:
Email your photo, a short message and choose an option from one of the
four Valentines shown above with the email address where you would like
us to send the Valentine to valentines@gccavalierrescue.org Be sure to
include your name so we can match your donation to your email.
Deadline will be the afternoon of Valentine's Day.
The Valentines will be sent on Valentine's Day to the specified email address.
Questions? Email to valentines@gccavalierrescue.org
You can also see this on our Facebook page.
​Thank you for your support.

February 13th, 2023 11:00 AM through February 14th, 2023 2:00 PM